Hello
I AM Neel Kamal Singha
ABOUT ME
I AM Neel Kamal Singha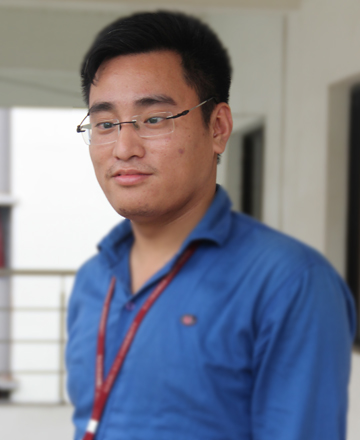 Full Name

Neel Kamal Singha

Address

AT Road, Jorhat

Phone/Whatsapp

+91-9435-854-585

Email

[email protected]
Date of Birthday

15 November 1991

Job

Senior Website Developer Executive

Skype

neelkamal.singha

Website

www.nksingha.com
I'm a Website Developer Based in Jorhat, Assam. I have a Passion for Creating Clean, Beautiful, Interactive, Responsive and User Friendly UI, Developed by Modular, Scalable and Functional Code. I'm specialized at solving CSS error or any design based error. For the security it depend on the developer how the website is maintained and coded.
my skills
my special expertise
PURSUING BSC-IT

From KUMPU, now in 6rd sem

ANIIT

Software Engineering from NIIT, South-Ex,New Delhi. This course is base on programming. Contents are C#, ASP.NET, JAVA, JSP, Servlet, JSF, Spring, Hibernate, XML, Software Testing

Aptech Certified Computer Professional in CSP

This course taught me how to program. Contents are MS-Office, C, C#, Java, HTML,CSS, JS, MS Fornt Page. CSP means Client Server Programming.

Aptech Certified A+

This course taught me what are the computer hardware component. How to assemble and dissemble it? How to install windows? How to install software?

Aptech Certified N+

This course taught me what are the computer networks. How to create a local networks? How to connect PC to PC(Direct Network)?
ADVISOR and SENIOR WEBSITE DEVELOPER

Working with MyDesigne, Tarazan, AT Road, Jorhat, Assam as Advisor and Senior Website Developer. In this organization I have designed various local firms. This organization improve my skill of designing.

WEBSITE DEVELOPER EXECUTIVE

Working with Kaziranga University, Koraikhowa, Jorhat, Assam as Website Developer Executive. In this organization my major role was to maintain of University website www.kazirangauniversity.in developed on Joomla. I have designed TalentTantra website of University. I use to update the news or any content management. In addition this university I have worked in ERP system (TCSION TATA Consultancy Services).

WEBSITE SERVER ADMINISTRATOR

Worked with Mad Technologies Pvt. Ltd. New Delhi, India. This company taught me how to host or complete configure a website in server. I have worked in cPanel,Plesk and WHM for hosting.

WEB DEVELOPER AND SUPPORT

Worked with Mad Technologies Pvt. Ltd. New Delhi, India. This Company is having major activities, which covers various Website developments (WordPress , JSP, ASP.NET ,PHP), Manage website hosting servers, removing bugs from website/web pages, security , Store Management Software, and Social Media Advertising(Facebook, Twitter, Instagram and Youtube). In addition this company has taught me to handle E-commerce websites, sales and Online Customer Support.
my skills
my special expertise
TESTIMONIALS
what clients says about me
Neel always does an awesome job. Is great to have a developer I can trust and rely on. Thanks so much! Best seller on here in regards to fixing wordpress issues!! I had tried 2 sellers before this who could not fix the issue but this one could quickly and easily. I am very happy :) Thank you

Gerardo Serrano
CEO of Ascomptable
Very well done, listened to all my needs and wants for the page. Done in a timely manner. Im so happty to have found a new web designer. Thank you

Simplyartsy
Owner of Bestfaceart
services
what i can do for you
TRENDY DESIGN
I could convert your old website into a new trendy design, looks and features.
Responsive Design
I could convert your old website to responsive style according to the device with the help of advance CSS.
Custom Design
If you have plan/layout then i can convert that layout into live website design with any animation if required.
Wordpress Website
I complete wordpress website creation with premium theme. I can design any website related to any category.(Blog,Yellow Page,WooCommerce,etc.)
Update / Maintenance
I could maintain/update your website as you desire when-ever where-ever.This include your website update like design,post,news,etc.
Fix Design Errors
If your website is not loading properly according to the device, then this problem may occur due to css designing logic or extra space. So i can track down and fix it.
my WORKING PROCESS
METHOD OF WORK PROCESS
01
DISCUSS IDEA
Sharing and understanding the idea and requirements of client.
02
CREATIVE DESIGN CONCEPT
Designing the trendy, responsive design and by keeping the clients requirements.
03
BUILD
After the design and concept is approved. Building of the listed features starts after the previous face.
04
LAUNCH
After the building i send a URL to the client for viewing and testing. As soon as proved the website will be launched to the respected domain.
LET'S TALK
Get in touch with me
Please Feel free to get in Touch Anytime, whether for Work Inquiries or to just say Hello!
ADDRESS

BoriGoan, Nimati Road Near TVs Services Center, Jorhat, Assam

CONTACT INFO

[email protected]
[email protected]
+91 (9435) 854 585
+91 (8133) 867 275

WORKING HOURS

Daily 19.00 to 23.30 ( Sunday Available )